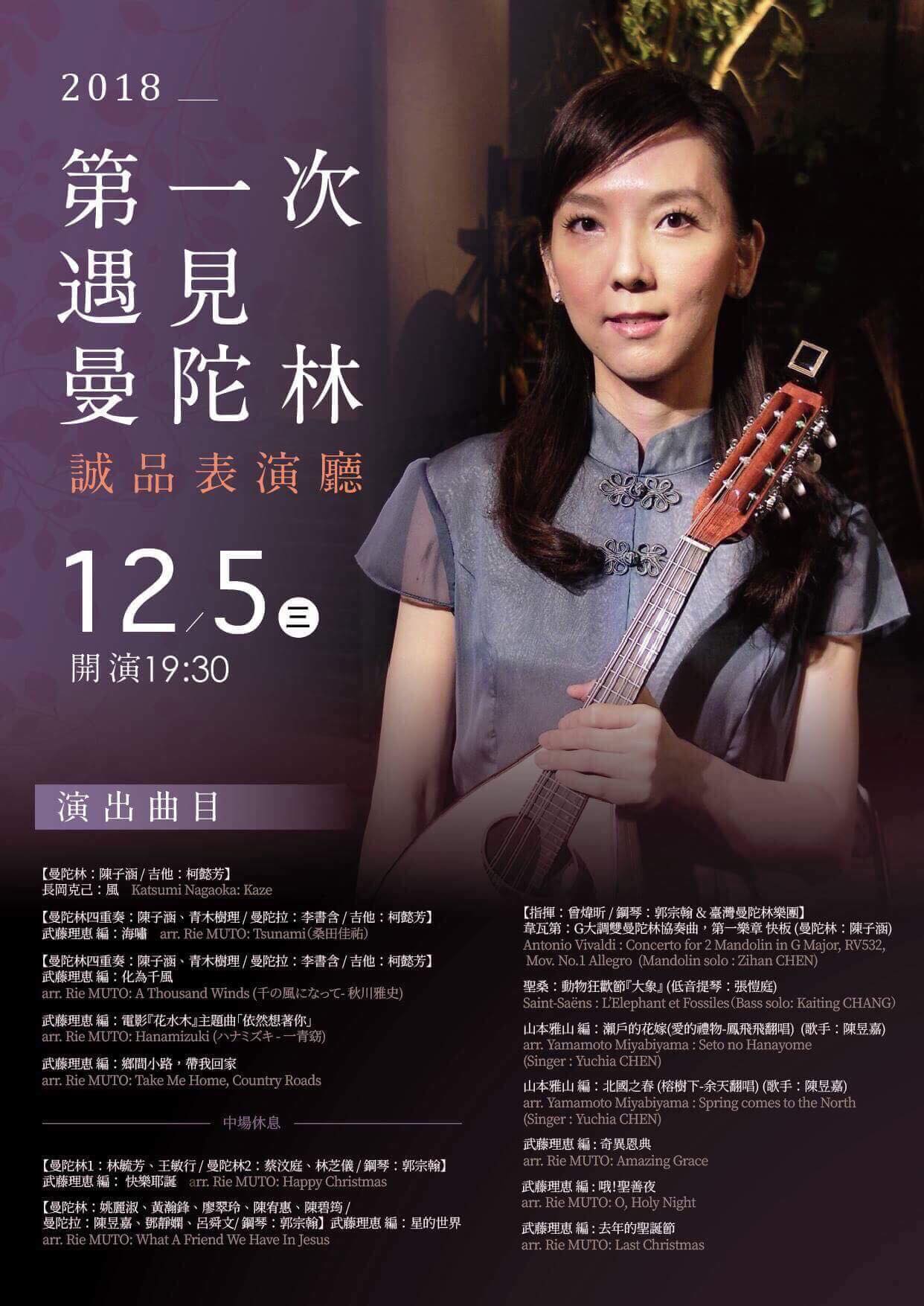 "The first time I met the mandolin" concert

Do you still remember the feeling of meeting the mandolin for the first time? feel? What kind of touch did the mandolin bring to you?
If you haven't met me yet, be sure to listen to this concert! The tracks are all-encompassing and are very nice to hear and bring you unlimited surprises!
Invite everyone to walk into the time tunnel to listen to the beauty of the mandolin!
"The first time I met the mandolin" concert
Datetime:December 5 , 2018 (Wed.) 7:30 pm
Venue:: Song Yan Eslite Concert Hall (No. 88, Yanchang Road, Xinyi District, Taipei)
Tickets :
https://www.artsticket.com.tw/ckscc_mob/Application/MOB1040.aspx?ProductID=rotyiUrPteSFwHvUxmXabcdefkQ&fbclid=IwAR2S9ZjarFjCPsucBM5I7JAtecL0YESPOSFMwjP-mTov6VCVnAVrDC3cXdI
Performermusician:
Mandolin /  Zihan CHEN
Guitar / Yifang KO
Piano / Nick KUO
Bass / Kaiting Chang
Conductor / Weihsin TSENG
Taiwan Mandolin Ensemble
Program :
[Mandolin: Zihan CHEN / Guitar: Yifang KO]
Katsumi Nagaoka : Kaze
[Mandolin Quartet / Mandolin : Zihan CHEN, Juri AOKI / Mandola : Shuhan LEE / Guitar : Yifang KO]
Arr. Rie MUTO: Tsunami (桑田佳佑)
Arr. Rie MUTO: A Thousand Winds (千の风になって-秋川雅史)
Arr. Rie MUTO: Shiroi Koibitotachi (白い恋人达-桑田佳佑)
Arr. Rie MUTO: Take Me Home, Country Roads
~~~Intermission ~~~
[Mandolin 1: Lin Yifang, Wang Minhang / Mandolin 2: Cai Wenting, Lin Zhiyi / Piano: Nick KUO]
Arr. Rie MUTO: Happy Christmas
[Mandolin: Yao Lishu, Huang Yufeng, Liao Cuiling, Chen Yuhui, Chen Bizhen / Mandala: Chen Yujia, Deng Jingwei, Lu Yiwen / Piano: Nick KUO]
Arr. Rie MUTO: What A Friend We Have In Jesus
[Conductor: Weihsin TSENG / Piano: Nick KUO & Taiwan Mandolin Orchestra]
Antonio Vivaldi: Concerto for 2 Mandolin in G, RV532 (Mandolin solo: Zihan CHEN, Juri AOKI)
Saint-Saëns: Lʹ Elephant et Fossiles (Bass solo: Kaiting Chang)
Arr. Yamamoto Miyabiyama : Seto no Hanayome (Singer : Yuchia Chen)
Arr. Yamamoto Miyabiyama : Spring comes to the North (Singer : Yuchia Chen )
Arr. Rie MUTO: Amazing Grace
Arr. Rie MUTO: O, Holy Night
Arr. Rie MUTO: Last Christmas